Where Beer Meets Treeline
Gunnison, Colorado × Elev. 7703'
Located in the heart of the Gunnison Valley where excellent beer and epic adventures go hand-in-hand.
Photos by Tracy schwartz
High Alpine Brewing Company opened its doors the Summer of 2015. Located in downtown Gunnison, Colorado surrounded by epic terrain that locals embrace all year round. Scott started HABC as a way to bring community together one delicious pint at a time.
Nothing goes better with beer than pizza, which is why we feature a full menu of delicious brick oven pizzas. Our menu also includes fresh salads with homemade dressings and quality appetizers to start your meal off.
Come get your spirits elevated at High Alpine Brewing Company!
Phone
(970) 642-4500
Location
111 North Main Street
Gunnison, CO 81230
Hours
Happy Hour 4p-6pm
Sun- 10:30a-11pm
Mon-Th 11a–11pm
Fri-Sat 11a–12am
Kitchen 11am-9pm daily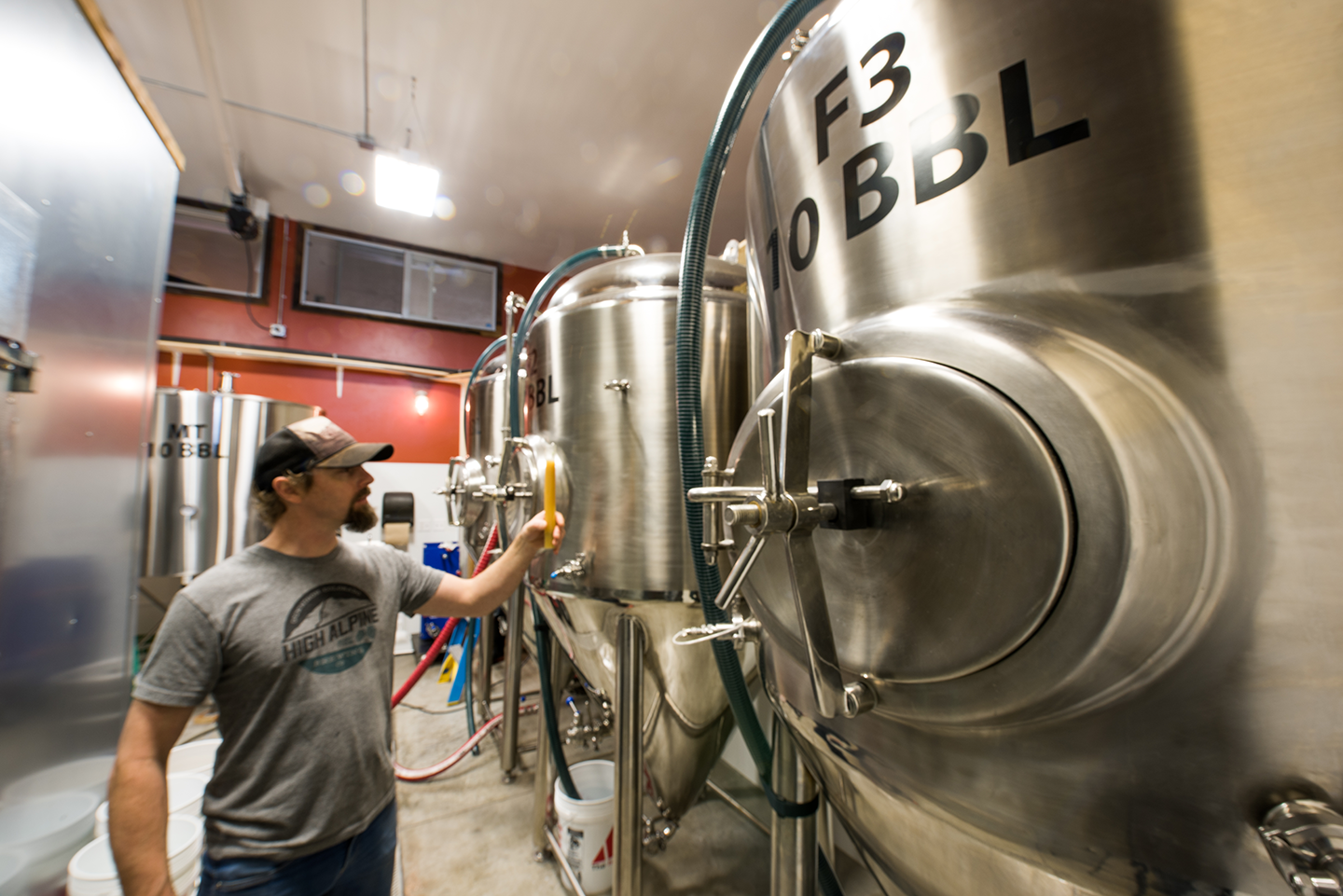 Hand-crafted beers designed for taste, quaffability, and quality.
High Alpine Brewing Company- providing beer connoisseurs with some of the best beer in Colorado! Our business model is to use locally sourced ingredients whenever possible. We use Proximity Malting Company based out of Monte Vista, CO for all of our base malt in our beer. We were recently rated 14th in Colorado breweries on Untapped. Join us for a pint or two and judge for yourself. We always love to see your smiling face!
Each of our beer recipes uses only the finest hops, grains, high country water and other quality ingredients combined to bring you world class beer. Experience our quality for yourself. Come in and grab a pint.
Current Beers On Tap:
GUNNY GOLD KÖLSCH-
5.1% ABV 22 IBU's
Our Kölsch is brewed using very traditional methods and presents very similar to those you'd drink in Köln, Germany. Light and crisp with noble hop aroma and flavor. A hit with all beer drinkers!

GREEN GATE IPA-
6.7% ABV 85 IBU's
A true West Coast IPA for hopheads and folks looking to expand their palates with a very special beer. Made with two row, crystal malts and select hop varieties that take the stage. Citrus and stone fruit (think peach and apricot) flavors are gathered from copious amounts of Citra and Mosaic hops. A taste explosion in your mouth.
ANTHRACITE AMBER ALE-
6.1% ABV 25 IBU's
This amber ale is delectably caramelly and finishes with a light citrus flavor due to the Cascade hops used in the brewing process.
SOL'S ESPRESSO STOUT-
6.0% ABV 33 IBU's
A delightful chocolate stout that has been infused with just the right amount of espresso from our friends at Tributary Coffee Roasters right here in Gunnison, CO. A perfect breakfast beverage that also pairs perfectly with our Guadalupe BBQ pizza or one of our desserts like our house-made Beeramisu!
? DOUBLE IPA
8.0% ABV 25 IBU's
Our second SMaSH (single malt and single hop) in the Maximus series. Golden Promise malt combined with absurd amounts of Enigma hops. The question mark in the name was chosen after The Riddler, a famous comic book character. We add a majority of the hops in a dry hop schedule, which keeps this beer from getting bitter. Tropical fruit on the nose match up to big melon and citrus flavors in your mouth. So delicious!!!
SLASH TURN HAZY IPA-
6.5% ABV 50 IBU's
Now that the hazy or New England IPA is officially a Brewer's Association beer style, we decided it was time to make one for ourselves. Developed by our Head Brewer, Nick Lawson, Slash Turn is FULL of oats and hops. A creamy mouthfeel and serious tropical and citrus flavors take charge in your mouth. Do yourself a favor and come in for this really delicious beer!
PANDYFACKLER OUD BRUIN
7.6% ABV 0 IBU's
A traditional Oud Bruin that was aged on Quintessa and Prisoner wine barrels for 18 months. Big barrel character and slightly sour flavors dominate this very unique liquid. Very limited availability!
BARREL AGED IMPERIAL GOLDEN ALE
11.0% ABV 23 IBU's
Aged in Prisoner Cabernet Sauvignon and Petit Syrah barrels for 14 months. Malty, slightly sweet, and rich! The color went from golden to a dark amber from aging on the wine barrels. Light notes of oak and bread crusts on the finish.

COMING SOON:
WILDCRAFTED SERIES
Please stay tuned for details on more beers in this series...
Employment
High Alpine Brewing Company is an Equal Opportunity Employer and welcomes diversity. Join our team today! To apply for any of the jobs below, please submit your resume and cover letter to gm@highalpinebrewing.com.
Current Job Openings:
Line cook
Line cook is responsible for day to day prep of ingredients, implementation and execution of producing menu items. Teamwork is critical, as we are a high volume and fast paced environment. To apply, please send your resumé to gm@highalpinebrewing.com.
Located in the heart of the Gunnison Valley.
111 North Main Street
Gunnison, CO • 81230
(970) 642-4500
info@highalpinebrewing.com
Stay up to date on events on our Facebook page!
We would love to hear from you.